Open navigation
Black PR Wire Power Profiler on Karine Jean-Pierre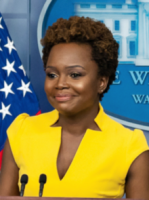 Karine Jean-Pierre is a political campaign organizer, activist, political commentator, and author. Since January 2021, she has been White House Principal Deputy Press Secretary in the Biden-Harris Administration. Jean-Pierre served as the chief of staff for Democratic vice-presidential nominee Kamala Harris on the 2020 United States presidential campaign and was the first Black woman, and the first lesbian, to ever hold that position. Previously, Jean-Pierre was the senior advisor and national spokeswoman for MoveOn.org and a political analyst for NBC News and MSNBC. Jean-Pierre is a former lecturer in international and public affairs at Columbia University.
Jean-Pierre was born in Fort-de-France, Martinique to Haitian parents, and was raised in Queens Village, New York City.  She is a graduate of the New York Institute of Technology and received her MPA from the School of International and Public Affairs, Columbia University (SIPA) in 2003, where she served in student government and decided to pursue politics.
Following graduate school, Jean-Pierre worked as the director of legislative and budget affairs for New York City councilor James F. Gennaro. In 2006, she was hired as the outreach coordinator for Walmart Watch in Washington, D.C. Jean-Pierre was the southeast regional political director for John Edwards' presidential campaign in 2008. She joined the Columbia University faculty in 2014, where she is a lecturer in international and public affairs.
During the Barack Obama 2008 presidential campaign, Jean-Pierre was the campaign's southeast regional political director and was the regional political director for the White House Office of Political Affairs during the Obama administration's first term.
In December 2018, The Haitian Times named her one of six "Haitian Newsmakers of The Year." Jean-Pierre's first book, Moving Forward, was published in 2019. It is described by WJLA as "part memoir, part call to arms," in which she recounts her personal and professional life and encourages people to become involved in politics.
Source: Karine Jean-Pierre - Wikipedia