Open navigation
Black PR Wire Power Profiler on Mellody Hobson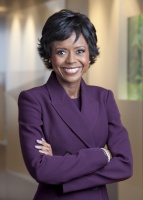 Mellody Hobson is the Co-CEO and President of Ariel Investments. She also serves as a Chairman of the Board of Trustees of the Ariel Investment Trust.  Mellody is also the director of JPMorgan Chase and Quibi. In March 2021, Mellody was named Chair of the Board of Directors of Starbucks Company, becoming the first Black woman to hold that position at the company. In the past, Mellody was the chair of the board of directors of DreamWorks Animation and a director and board member of the Estée Lauder Companies.
Mellody started in Ariel Investments as an intern and worked her way to the top, becoming one of the few African American women in the investment industry. She is a successful businesswoman, investor, teacher, and financial literacy advocate who has established herself as a national financial expert. As an ardent advocate of financial literacy, Mellody believes that children should be taught about money and the stock market in school.
Mellody is a contributor on financial issues to CBS News. Forbes named her one of the World's 100 Most Powerful Women in 2020 and Time Magazine as one of the 100 Most Influential People in the World in 2015.
Mellody is also a philanthropist; She serves as chairwoman of After School Matters, a Chicago-based charity that provides high-quality after-school programs for Chicago teenagers.
Mellody holds honorary doctorate degrees from Howard University, Johns Hopkins University, St. Mary's College, and the University of Southern California and a bachelor's degree from Princeton University's School of Public and International Affairs.