Open navigation
Black PR Wire Power Profiler on Omari Hardwick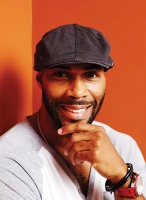 Omari Hardwick is a native of Georgia. Growing up, sports were his world, but early on he knew he had a passion for the arts. By the age of fourteen, Hardwick was writing poetry on a regular basis, a passion he would carry with him into adulthood. In high school, he excelled at basketball, baseball, and football, and went on to play football at the University of Georgia. Although a star on the field, Hardwick never gave up his passion for acting, and minored in theatre in college. 
After graduation, Hardwick relocated to San Diego for a spot on the San Diego Chargers (NFL). However, a knee injury cut his football career short. He decided to revisit his original passion for acting, and moved to New York to study his craft more extensively. In New York, Hardwick studied off Broadway until 2000, when he made the move to Los Angeles. As a struggling actor, he worked odd jobs to pay for acting classes, however the security gigs and substitute teaching at times were not enough to make ends meet, and at one point he lived out of his car. 
Hardwick's first big break came in 2003, when he was cast in his first major role as a series regular in Spike Lee's Sucker Free City (2004). Two years later, he landed The Guardian (2006) and TNT's Saved (2006) - both of which he booked within a three-week span in 2005. Throughout 2007 – 2009, Hardwick worked on various projects, including guest starring on several television series, and filming several movies including Summit Entertainment's Next Day Air (2009) and Touchstone Picture's Miracle at St. Anna (2008).  He has gone on to star in numerous movies and TV shows.
In addition to acting, Hardwick is a founding member of Plan B Inc. Theater Group, and a co-founder of Los Angeles Actor's Lounge. Hardwick also continues to work on his poetry, and has written over 4,000 poems.
Source: https://www.imdb.com/name/nm1165044/bio